At the end of May I found myself needing a break from this place. Sometimes it's just too much, you know? Plus, I'd been obsessive over it, spending all my free time on social media instead of doing productive things that actually leave me feeling happy with myself.
I told myself I'd just get away from it for June and spend some time reading, which is something I've failed at majorly this year. And maybe be able to finally write something after giving myself a much needed dip in the creative well. Unfortunately, I didn't end up reading all that much, or writing a single word for that matter, and as you can see by the date of this post, it's August and I'm just now returning. Sort of. But my time away wasn't a waste. In fact, I was super busy. And not just busy doing things that are or feel like work, though there was some of that too.
So what have I been up to? Well, let's see….
I did read a little, but more comics than books. That's basically been the story of this year. I don't know what's gotten me so much more into comics this year than previous years (probably, it's partly Heather's fault. 😉 ) but my comic reads and purchases are leading by a landslide. A few of the more notable reads during the hiatus include: Jem & the Hologram Comics, Morning Glories Graphic Novels, and The Haunting of Sunshine Girl Novel.
Photography's been keeping me the busiest outside of my day job, between actual photoshoots and hours of editing. I shot a wedding, a superhero birthday party, a pregnant lady, and a little diva! It's both weird and awesome how much paid work I've gotten photography wise, considering how little I broadcast the business. God's been good to me this way. As I look toward fall, which is notoriously my "busy" season when it comes to pictures, I'm a little nervous about how I'll juggle it all alongside wedding prep, but I think I might be able to make it happen with designated weekends for taking ALL the pictures. Sort of like Fall Minis or whatever that trend is… I'll have more on that later if anyone's interested.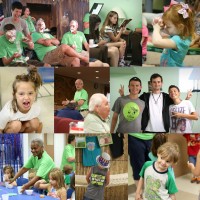 I had two opportunities to work on one of my resolutions during the hiatus. First, I shot most of Vacation Bible School at my church. Not only was it fun capturing all the kids being kids, it was awesome to see how excited they got about Jesus. And just how many of them showed up night after night. My small church saw a record breaking number of 106 attendees! That doesn't even include all the adults who worked or attended the adult class either. At the end of the week there was a slideshow presented with a bunch of my pictures mixed in. My cheeks were sore from all the smiling I did watching the recap of a great week. I hope I get to do even more next year.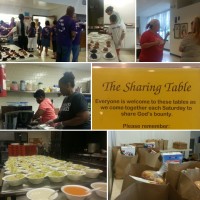 I also finally got to volunteer for the Sharing Tables (aka Soup Kitchen) during the hiatus too. I didn't take my big camera to capture that, just a few camera phone shots, but it is definitely something I want to commit to every time my church participates. We served the 70-some people that showed up lunch and dessert and then, thanks to the goodness of local grocery stores and everyday people donating their goods, every person gets to leave with a bag of food and necessities to get them through the week. These Sharing Tables are open to them every Saturday and while it was really sad to see how many people have to rely on this to eat and live in general, I am so glad such a thing exists for them. It's disheartening to see just how many people right around me go without; the veterans, the disabled, families with an abundance of children. Their struggle tugged at my heart in a serious way and I left there feeling both humbled and blessed and really happy I got to serve God this way.
My toy collection grew somewhat substantially during the hiatus, but that's probably no surprise. I was extra excited about all the toys I got in June & July though because for the most part I'd pre-ordered them all months ago and even though they weren't necessarily slated to release all at the same time, they basically did, leaving me with what seemed like days and days' worth of toy hauls. Toys received include: Inside Out Funko Pops!, Mystery Minis, and Disney Tsum Tsums, Winnie the Pooh Tsum Tsums, The Breakfast Club Funko Pops!, a full case of Garbage Pail Kids Funko Really Big Mystery Minis, Funko 10" GPK Adam Bomb Vinyl Figure, the 17" Monster High Freak Du Chic doll Gooliope Jellington, and Tokidoki's Unicorno Series 4! You can see pictures of all them HERE!
Some random things I did during the hiatus that are worth noting include: Starting two new subscriptions services in addition to my Loot Crate. One was Nerd Block's latest venture, Comic Block. I'm still not entirely sure how much I'll love this in the long term, but I think I'll probably keep it around until I switch back to Horror Block for Halloween. And I also subscribed to a treat service called Universal Yum, which sends you snacks and treats from different places around the world every month. So far I've gotten goodies from Mexico & Japan. It's been really fun tasting places I'll probably never get to travel to.
My tattoos have changed since the last time I was online. I've had two sessions to add color behind the leaves and snowflakes and they finally feel complete! I'm hoping to squeeze one more tattoo in before the wedding, so long as schedules and funds work in my favor. If not, I suppose I'll have to be patient till next year.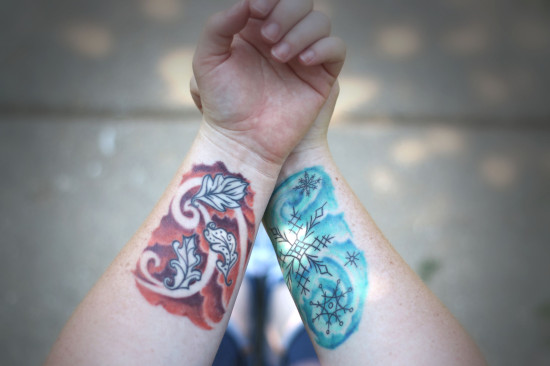 Heath and I went to see Cirque Du Soleil's Varekai. I've always wanted to see a Cirque Du Soleil show, but I guess I was ignorant to the fact that they're entirely in French. Despite having taken 4 years of honor French in high school, I had no freaking idea what was going on. But it sure was pretty and they're some crazy talented performers. I think before I make too much of a confused judgment on Cirque Du Soleil as a whole, I should probably see another show first and see if I can follow that story a little better.
I actually went to the movies. Twice! As someone who loves film as much as I do, you think I'd go more often, but I just can't justify the cost and am strangely patient in most cases when it comes to waiting for movies to come out on DVD (probably because it happens so fast these days). That being said, I miss the theater. I used to go A LOT and even though it's crazy how much it costs nowadays, there's something about seeing it on that big screen that you start to miss. So, Groupon had a deal and Heath and I just picked whatever looked the funniest, which happened to be Amy Schumer's TRAINWRECK (and it was perfectly hilarious, btw) and we found ourselves at the movies randomly one day after work. I think it'd been a year since I'd been to the movies so it was odd that I'd find myself there again, for a second time, in the same week. But that following weekend my sister called and said, "We asked Gideon who he wanted to go see Minions (his first theater movie) with, Mommy or Daddy? And he said, "Aunt Sarah," so I don't know if you wanted to take him or not, but…" And of course my heart was melting and I was all, "I'll be right there!" God, I love that kid. He was scared initially, of the bigness of the theater, of the darkness (he's scared of everything new these days, it's a phase), but once that screen lit up he was so captivated he forgot all about those fears, he even forgot he had an ice cream sandwich in his hand (and no one ever forgets about ice cream). When it was over he was so excited to see it again on that "Big TV." And I'm excited about the idea of getting to see kids movies in the theater now, because Aunt Sarah will always be willing to take him. 😉
I've finally started to panic about the wedding and the lack of planning I've done for it thus far. It's 3 months away now and I've only just now locked down a photographer and sort of locked down a caterer, but haven't decided on a menu yet. There's still so much to do that even thinking about making a to-do list for it all overwhelms me. I'm sorely regretting not taking this more seriously earlier on in the year. It's still just going to be a laid back, sort of non-traditional wedding (I keep referring to it as a glorified cookout, but it's definitely more than that), but that still requires serious effort considering I'm making so much of the decorations and whatnot by myself. I've really got to get busy.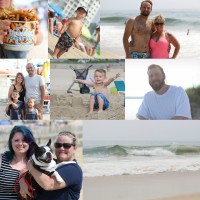 The most exciting thing I did during the hiatus was taking a real vacation for the first time in ages, to the beach for the first time in over a decade. It was only a 3 day getaway, but it was much needed and oh so fulfilling. My parents had rented a giant beach house and my sister's family and neighbors came down too. Being at the beach again with my entire family had me nostalgic for my youth and all the vacations we took there when I was a kid. Heck, just being on the boardwalk after so long away from it had all the feels buzzing happily inside me. We did all the necessary, OceanCity things; Candy Kitchen's Fudge, Fisher's Popcorn, Thrasher's Fries, Skee-Ball, and Old Time Black & White Photo booth pictures. We walked a ton and ate a really good seafood restaurant called Hooked, and even got to take home some really pretty blown glass ornaments from the Christmas Village my parents have always gotten their own ornaments from. The waves kicked my butt and Heath and I were both so sunburnt we looked like lobsters, but it was incredibly fun and relaxing. Just the long overdue escape from life we needed. I hope my parents get that place again next year. My camera performed like a champ while we were there, and if you're interested in seeing pictures from the trip, click HERE!
This hiatus was good for me, mentally and physically, and while I did miss the internet a little (Okay, that's kind of a lie. I mostly only missed Twitter – lol.), I think I need to practice staying away from it a little more often. It's a bad habit I don't want to let takeover me again. Because even if I didn't get all the things I thought I would do done in my absence, I still did a heck of a lot more than I would have had I still been wasting all my free time with it. Stuff that was way more fulfilling than the internet's ever made me feel. Everyone should take a break from time-to-time. It's good for you to actually live life, you know? Not just watch how other people are living theirs. 😉
What have you been up to while I was gone?