I'll be honest, I never thought I'd ever feel a real need for a limited edition doll. As far as exclusives or chaser figures go, or the ones that have value at least, I've always just thought it was cool if I happened to get one, but never really cared whether I got them or not. I think to date, the only "exclusive" toys I've actively pursued were Monster High items, and even with their exclusivity, we're not talking about forking over a great sum of money to make them mine. I've watched my best friend fight the hordes for the exclusive dolls she has and sometimes have to pay unfair prices for the ones she really needed. I always feel so awful for her struggle and I thought that alone would deter me from ever feeling compelled to join the fray, but I learned last week that I was wrong.
Tokidoki and Barbie teamed up to release two new LE dolls last week and I'd already been wishing I'd known about Tokidoki back in 2011 when the first one came out because nowadays you'd be lucky to get it on eBay for somewhere between $300 & $800 (which means there's never even a possibility I could own one). Of the new dolls, one was significantly more exclusive than the other. Naturally I was more drawn to the super limited one, not because of this exclusivity though, but because in my opinion it's the prettier of the two dolls.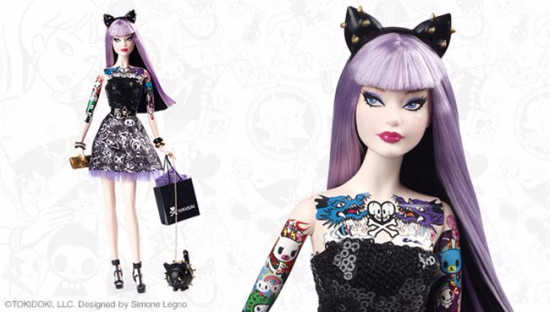 The doll I'm talking about is the Platinum Label Tokidoki Barbie. There were only 999 of her made. And to make that low availability even tougher, Barbie's site first created a wait line to even shop the event (of which I stayed in for 6+ hours) and then a treasure hunt I knew nothing about to even find the page that doll was being sold on. I was allowed into the site about 2 minutes after the sale started, but by the time I found the secret page for the extra exclusive doll I wanted (we're talking about maybe 10 minutes total), she was completely sold out already. Literally, in a handful of minutes. It blows my mind. And disappoints me.
What makes me even more frustrated is seeing her listed on eBay now for $1K or more. And people are actually bidding on that price, actually willing to pay that much. I guess if I was a rich person, maybe that wouldn't seem so extreme for something so limited, but right now it just feels insane and disappointing. And I can bet that most Tokidoki fans are not rich.
I mean, I know I'm not some marketing expert and I won't pretend to have any real understanding about toy manufacturing, but I just don't understand the whole LE world. You have to figure that average toy production has to run in the 100's of thousands, so a special, limited toy that only produced say 10K would still be a highly sought after doll worth money, but at 10K, there'd be a bigger chance that real fans might actually be able to own one. I just don't get how one decides to only run 1K of something. Because, in the end, they're not the one who reaps the profit on it, the scalpers are. I don't understand how that's beneficial to the business releasing the product in the first place. Sure, if that day, they only released 1K dolls at $75 a piece they made $75K in those few minutes it took to sell out and that's great for business. But if you assume the profit on such a product is only 1/3 of that cost, they truly only made $25K. Meanwhile, if only 250 of those 1K LE dolls were purchased by scalpers who will turn around and sell that $75 doll for $1K, they're making $250K (or $231+/- after their own cost). Those scalpers are winning every time. It just seems like a bad business decision on the creators part.
I don't know, I know I'm just preaching to the choir of doll and toy collectors who also struggle to acquire rare things like this, but I just can't stop thinking about how frustrating it is. I wish the irritation of it all only turned me further from the desire to want one of these exclusives, but somehow it's only made me want it more. Still, not enough to ever pay such a crazy price for it, but enough to become a stalker if/when the next one releases. Is this madness they create in the ones who really want their products but fail to get them what they're banking on when they release these things? Probably. And I guess if that is the objective, they're clearly succeeding, because I'm not the only disappointed fan still talking about this a week later.