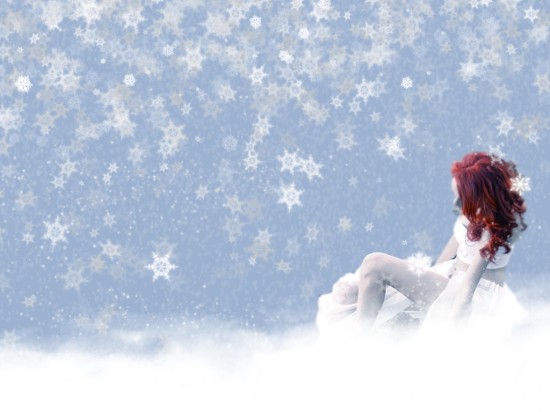 It hasn't snowed like this on Christmas since I was seven, but I don't remember that Christmas so much because of the white-out or because my mom had just died. I remember it most because of the girl that found me in the snow on Christmas Eve. She had called herself "The Christmas Princess."
***
Losing my mom that Christmas made me lose faith in a lot of things, including Santa Claus. It's amazing how death can make even the youngest child grow up almost overnight. At seven, death was the last thing on my mind until she passed, but suddenly it was all I thought about. I became very cynical over the prospect of life and was angry at any and everything that could end it. For a seven year old, I was mighty bitter. Child-like glee was something I knew nothing of anymore. All the anger though, was really just a mask I wore to conceal my fear. I couldn't sleep, for fear of never waking up again. I was scared to eat, for fear that I'd choke to death or be poisoned. I was even scared to go to school, just for the fear that I'd never see my dad again.
Given the circumstances, I'd rather have just skipped Christmas that year. There was no freshly-baked-cookie smell warming our house, no Christmas stories at bed time. Mom's voice wasn't carrying throughout the house singing non-stop Christmas tunes until the big day. It just wouldn't be the same without her. I could tell Dad felt the same way, but he tried really hard to hide his pain from me.
Putting up the tree felt more like a chore than anything else. There was no excitement leading up to lighting it, no Christmas music playing in the background to get us in the spirit. We felt dead, because she was dead.
I'd finally had enough of pretending. I dropped the string of lights in my hand angrily and said, "Dad, I don't even believe in Santa Claus anymore. Why bother?"
Dad looked even more defeated than he had just a few minutes before as he sunk into his chair and stared blankly at the half decorated tree. We never finished it; it just stood there for the rest of the month naked and never lit. Christmas, like my mother, had died.
That month had to be the longest month ever, but probably because we just wanted it to be over with already. There was talk of a great blizzard coming on Christmas and while most of the kids in my class were excited over the possibility of having a white Christmas and missing school, I was dreading being stuck at home –indoors- with my miserable dad in our miserable state. Even though I was scared to wonder too far from him, being around him without Mom on Christmas was just going to be too hard.
The snow arrived early on Christmas Eve. By the time I woke up there was already a thick blanket of it coating everything. At the rate it was falling there'd be several feet by nightfall. I had to get out of the house one last time before I was actually trapped in it. Dad never even got out of bed. I guess the day was just too much for him.