A friend at work gifted me some old baking supplies she didn't need anymore, one of which was a bundt cake pan, and I was especially excited because I'd been dreaming about this cake I'd made when I was younger that required a bundt cake pan. Okay, maybe it didn't actually require it, but it's better that way. 😉
So, behold, Chocolate Chip Zucchini Cake! Rich and dense, but not too sweet. This is one super yummy cake!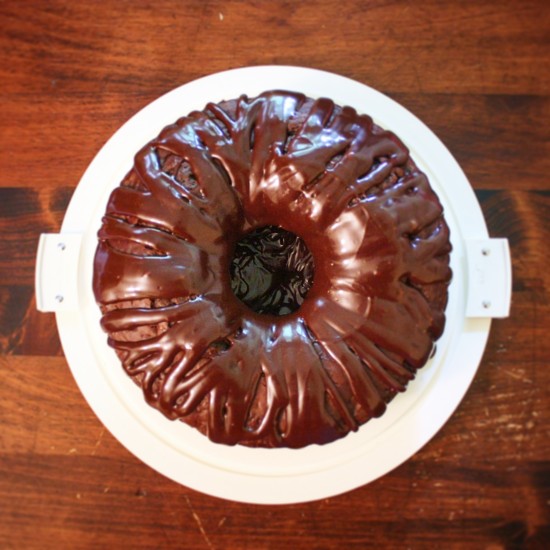 Ingredients:
2 

cups

 

+ 2 tbsp flour

1/3 cup cocoa powder
1 1/2 tsp baking soda
1/2 tsp salt
1 1/4 cup sugar
1/3 cup canola oil
2 eggs
1 tsp vanilla
3/4 cup greek yogurt
2 1/2 cups grated zucchini (squeeze dry in a towel)
2 1/2 cups semi-sweet chocolate chips
2 tbsp butter
5 tbsp corn syrup
3 tsp water
Directions:
Mix 2 cups of flour, cocoa powder, baking soda, and salt in a bowl and set aside.
In another bowl, beat sugar, oil, eggs, and vanilla together. Add yogurt and beat until well blended. Add dry ingredients and beat until just combined.
Coat 1 1/4 cups chocolate chips with 2 tbsp flour and fold into batter with zucchini.
Grease and flour bundt pan before filling with batter. Bake at 350 for 50-60 minutes.
While cake is cooling on a wire rack, mix 1 1/4 cups chocolate chips, butter, and corn syrup in a small saucepan on low. Stir until melted, then add 1/2 tsp's of water until the consistency is thin enough to drizzle over cake. You can spoon over the cake or fill a baggie and cut the tip to pipe it over the cake.