If I broke down the stuff I read in weeks, I would have met my goal of reading 1/2 a book a week, but the truth is, there were times I went weeks and even months without reading a single thing at all, so technically I failed. To further that failure, I read even less in 2016 than the shameful number of books I read in 2015.
I'm not sure that any amount of wanting and hoping I can read more in a year is enough to actually make it happen anymore. However, my husband has decided that truly smart people can read a book a week and that we are smart people so there's no reason we can't make it happen. I'm still unconvinced that's all it takes, especially since I have far less free time than him and so I'm not putting the pressure of a book a week on my plate for 2017. I'm not even putting the pressure of 1/2 a book a week like I did in 2016. But what I will agree to, and what I hope helps get reading back into being a regular habit for me, is to read something everyday. Whether that be a few pages or a whole chapter, in 2017 I want to make an effort to finish everyday with reading. For a little while there in 2016, I'd gotten in the habit of working out, showering, and reading a chapter before bedtime. It was a really peaceful way to finish my day and a great way to feed my brain right before dream creativity kicks in.
Despite not technically meeting my reading resolution for 2016, I did read some really great books, like The Penderwicks – Book 1, The Isle of the Lost, Black Widow – Forever Red, and Paper Girls Vol. 1, just to name a few. I read some just okay books too, and finally finished a few books I'd been lingering on for too long. As usual, I wrote mini reviews for each on GoodReads (which you can check out HERE!)  or you can check out the spines of my 2016 reads below. There are a few missing, either because I lent them out or donated them, but they'll be listed below!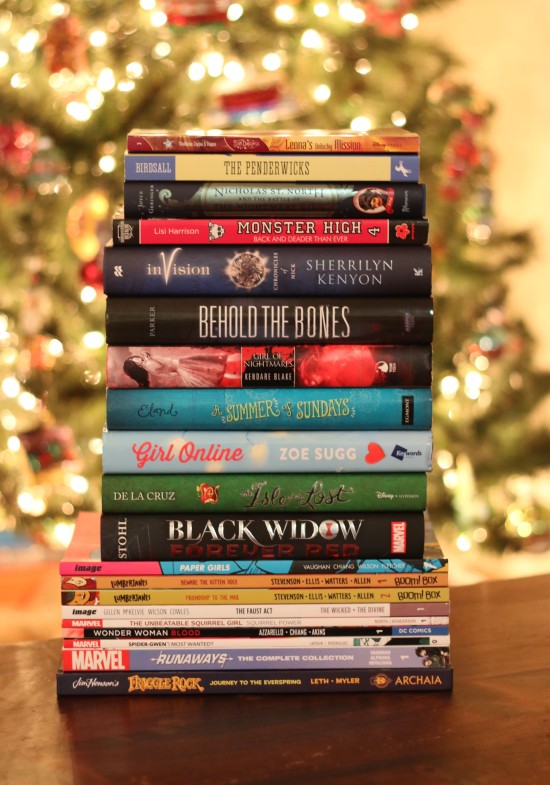 Not pictured: A Frozen Heart by Elizabeth Rudnick, Hoodoo by Ronald L. Smith, The Ghoul Next Door (Monster High, Book 2) by Lisi Harrison, Where there's a Wolf, There's a Way (Monster High, Book 3) by Lisi Harrison, The Stonekeeper's Curse (Amulet, 2) by Kazu Kibuishi
-AND- Multiple, Single Comic Issues of Jem & the Holograms & New Archie
What was the best thing you read in 2016? What are you most looking forward to reading in 2017?